WallWrite® Fold-up (Pull-down) Desks
WallWrite® is a unique solution for high-traffic areas where placement of a desk or traditional workstation isn't feasible. The WallWrite® features a unique flip-down door that serves as a writing surface, while conserving floor space.
WallWrite's® fold-up or pull-down desk temporary work surface folds up to save valuable workspace and is much more cost effective than a traditional desk. The WallWrite® is available with a self-closing option A pneumatic cylinder closes the door automatically. After using the fold down desk, walk away and the WallWrite fold up desk closes all by itself!
Key Features
Security: WallWrite® secures and protects confidential materials. In healthcare applications, it is even HIPAA compliant. Ideal for healthcare facilities, nursing stations and examination rooms.
Convenience: Materials stored in a WallWrite® are easily accessible without obtrusive filing cabinets or shelves.
Versatility: WallWrite® desks offer convenient storage of reference materials, patient charts, MSDS binders, and supplies. The unit is perfect in exam rooms, nursing stations, loading docks, warehouses, supply rooms and more.

Optional lock.

Magnetic closures keep door in place.

Easy mounting hardware included.

Heavy duty steel construction.

Handy holder for pens, instruments, small tools and other supplies.

Bin perfect for charts, folders or other printed material.

Durable, washable powder coat finish.

Self-Closing Option, a pneumatic cylinder closes the door automatically.
| | |
| --- | --- |
| Standard WallWrite fold up desk, accessories not included. | The WallWrite® DropBox/fold up desk allows for fast, easy and confidential filing. |
Commercial & Industrial WallWrite®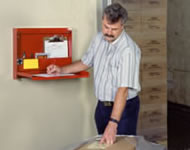 The WallWrite® fold up desk wall mounted work station is ideal for loading docks, warehouses, factory floors, maintenance rooms, supply rooms, inventory control, public planning areas, shipping and receiving areas or any other high traffic area. Durable powder coat paint finish cleans easily and resists dents and scratches that are common in industrial and commercial settings.
| | |
| --- | --- |
| The WallWrite® fold up desk is great for any file room, computer network room or any other area in the office. The WallWrite is not designed for storage of laptop computers. | Mounted at either stand-up or sit-down height on any wall, column or shelving rack, the WallWrite® can install virtually anywhere, making it easy to find a useful application. |